Partner of choice
What makes Health Transportation Group UK? the partner of choice for many organisations across the UK?

Our people are our biggest asset at Health Transportation Group UK.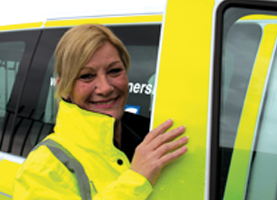 It is our dedicated Driver Care Assistants who provide
patients with the care and support they need. It is our
skilled Control staff who take on the task of planning hundreds of journeys every day. And there are many more people at HTG-UK who all play their part in supporting our frontline staff to provide the very highest levels of care for our patients.
We invest heavily in our staff so that they have the training and equipment they need to do the job to the best of their ability. All new staff complete a comprehensive induction programme before they begin their role. They are then crewed with a more experienced member of staff so that they are given as much support as possible as they start their career in patient transport. Staff also receive annual mandatory training to ensure they are up to date with the latest policies and practices.
And it isn't just our frontline staff that receive training and support. We offer a range of courses and initiatives for all of our people to develop their skills and knowledge. This includes:
Structured, on-the-job training and induction programmes
Personal development plans
In-house learning centres
Access to vocational training
An online learning and development resource
Leadership, management and supervisory development initiatives
As well as having the right training and equipment we do everything we can to ensure our people are healthy and happy. In 2021 we have launched a new Employee Assistance Programme which offers colleague free and confidential support, 247, 365 days a year. Covid-19 has taken its toll on all of us, both in our personal and professional lives. The EAP makes sure our employees have access to the support they need with services ranging from financial advice to mental health support.
We have also introduced Perkbox - our employee benefits app. As well as accessing services such as the EAP, Perkbox helps our employees to save money through hundreds of offers at highstreet stores as well as competitions and free give-aways.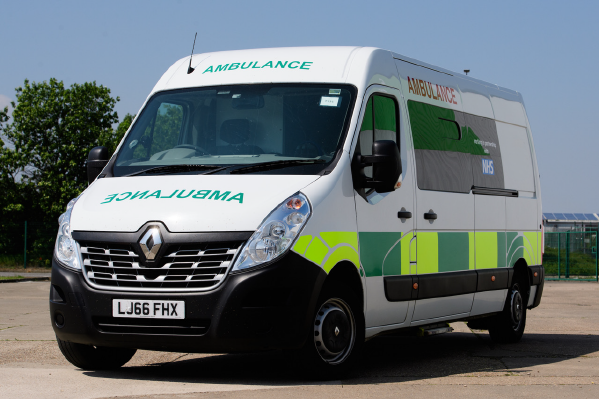 Our fleet has been designed to provide the optimum levels of safety, comfort and reliability while also remaining flexible and adaptable so we can meet the needs of all our patients.
Whether a patient is able to walk unaided, requires a wheelchair or has to be transported on a stretcher with oxygen, we have an ambulance to meet their individual requirements.
The fleet is multi-functional for all PTS duties and will adapt to accommodate a range of mobilities. It has been developed over a number of years and is based on our operational experience, stakeholder feedback and manufacturer expertise. And importantly, we also use patient feedback to help us tailor our vehicles to their needs.
Our ambulances conform to exceptional standards and can be adapted quickly and easily for each journey. We work exclusively with the UK's leading specialist vehicle conversion manufacturer which works within ISO 9001:2000 NQA Certification. All vehicles comply with all Road Traffic, Construction and Use regulations and DOH specifications for patient vehicles and equipment. All ambulances for stretcher and wheelchairs also meet M1 and M2 standards along with the standard BS EN 1789:2000 for vehicles carrying stretchers.
Vehicle types:
Car - capable of carrying up to four low-acuity (walking) patients.
Wheelchair Accessible Vehicle (WAV) - capable of carrying up to four low-acuity (walking) patients, or three low-acuity patients and one wheelchair (via ramp access at the rear).
Seated ambulance - For seated patients, including those who can transfer from a wheelchair to a vehicle seat and those who remain seated in their wheelchairs (via ramp access at the rear). In seated-only configuration these vehicles can transport up to eight seated patients and provide piped oxygen.
Stretcher Ambulances - With a single stretcher on board, this is principally for use by stretcher patients, as well as various combinations of seated patients and wheelchair users. These vehicles also provide piped oxygen.
Bariatric Ambulances – Has a bariatric stretcher on board, specialist seatbelts and a ramp rated for higher weight.